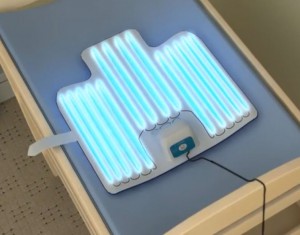 Single-Use Light Therapy for Babies
PEP's new and very-affordable Bright Embrace is a hospital-grade single-use baby phototherapy device that delivers intensive phototherapy for jaundiced babies at home or in the hospital. Designed to wrap your jaundiced baby in bright blue light provided by low-cost, but reliable, high-intensity LED bulbs, the Bright Embrace will treat most jaundiced babies within 1 to 2 days. Then, the Bright Embrace can be sent back to PEP for component recycling – so your Bright Embrace becomes "green."
Why a single-use phototherapy device?
Recent trends in health care for jaundice now make a single-use device attractive. Newborns often leave the hospital on day 1 or 2. Pediatricians then see them at day 3-5 in their offices for an assessment that includes evaluation for jaundice. The American Academy of Pediatrics (AAP) recommends aggressive screening and treatment with "intensive phototherapy" for significant jaundice.
Medicaid and private insurance reimbursement for home phototherapy has deteriorated to the point that in many locations, your local home medical equipment (HME) service may be reluctant or unwilling to provide home phototherapy. Your HME dealer may not be able to recoup the cost of going to the home twice to set up and retrieve the equipment. Therefore, many babies are returned to the hospital for phototherapy – babies who could otherwise be treated at home – often resulting in family inconvenience and very high costs.
Bright light technology has advanced so there is now the possibility of developing a low-cost, single-use phototherapy device that meets the AAP recommendations for "intensive phototherapy". Such a device can be dispensed from the pediatrician's or the HME service's office, and parents trained in its use with a simple training program. Daily outpatient visits are scheduled until the jaundice resolves. HME staff trips to the home are eliminated; costs are reduced significantly.