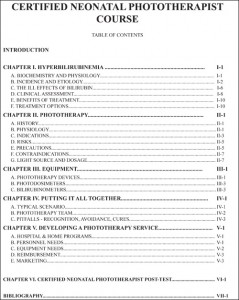 Looking to turn your staff into phototherapy experts? You can with PEP's Certified Neonatal Phototherapy Course. Created by a medical phototherapy expert and heavily referenced, our course will help you create and sustain a successful phototherapy program in your hopsital.
Participants in the course become certfieid neonatal phototherapists and build a solid foundation of facts about hyperbilirubinemia. Plus the course can provide up to 14 hours of CEU credits.
Click here to view the course. To purchase, please call 800-622-6240.